1. Where can I find the SEC Network channel on TV?
Use the SEC Network Channel Finder.
You can also watch online, on this website and WatchESPN apps.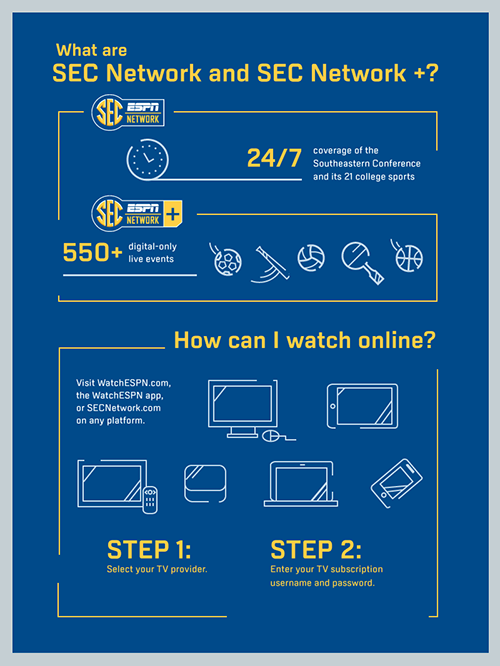 2. What is the SEC Network?

The new channel developed by ESPN and the Southeastern Conference to serve fans of one of the nation's most elite conference - the SEC. The network will air SEC content 24/7 including 45 SEC football games, 100 men's basketball games, 60 women's basketball games, 75 baseball games, 50 softball games and additional events from the SEC's 21 annual sports. Programming also includes studio shows and original content such as SEC Storied.




3. When did the SEC Network launch?

Thursday, August 14, 2014.




4. Am I able to watch the network on my mobile phone or similar device?

Yes, the SEC Network is available on SECNetwork.com and on iOS, Android, Apple TV and Roku devices through participating providers via WatchESPN.




5. Where can I apply for a job at SEC Network?

Apply online at ESPNcareers.com




6. How many live events will be on the SEC Network?

More than 1,000 live events will be available in the first full year across the television network and its digital extensions.




7. What happens if my carrier doesn't offer the network?

We encourage you to keep calling your cable, satellite or telco provider to request the SEC Network or switch to a carrier that does.




8. Can I pay to subscribe to the network online, Pay-Per-View or via ESPN3 if I can't get it on TV?

No.




9. I live in a state outside the SEC footprint. Are you working to make sure we are able to see the network too?

Yes. Our interest is in delivering this content in broadly distributed packages across the country.




10. How can I get the SEC Network?

Agreements are already in place with AT&T U-verse, Charter, Comcast, Cox, DIRECTV, DISH, Time Warner Cable, and other providers (full list below) to distribute the network. ESPN will continue negotiating with the other distributors for carriage of the SEC Network. Your cable, satellite, or telco provider makes programming decisions based on customer requests. You can support the SEC Network by calling your cable, satellite, or telco provider and requesting the SEC Network OR by going to GetSECNetwork.com to sign-up.

Arthur Mutual Telephone Company

McClure Telephone Company

Auburn Essential Services

Mid-Plains Rural Telephone dba Mid-Plains Communications

Audeamus, LLC (aka Kerman Telephone)

Minford Telephone

Ayersville Telephone Company

myEVTV

BEK Communications Cooperative

North Dakota Telephone Company

Bright House Networks

Northeast Missouri Rural Telephone Company

Brookings Municipal Utilities dba Swiftel Communications

Olin

Camellia

Palmetto Rural Telephone Cooperative (PRTC)

Cascade Networks

Peoples Services

CenCom, Inc. IPTV

Plateau Telecommunications

Central Arkansas Telephone Cooperative

PTC Communications

Charter

Randolph Telephone Membership Corporation

Cherokee Telephone Company

Rural Burleigh Cable

Chickamauga Telephone Corporation

Russellville EPB SmartNet

City of Dunnellon dba Greenlight Dunnellon Communications

Siren Communications

Comcast

Smithville Telephone

Com Net, Inc.

Southern Montana Telephone Company

DISH

Sunset Communications

Farmers Telecommunications Cooperative, Inc.

Time Warner Cable

Fulton Telephone Company

Trenton Telephone Company dba Tennessee Valley Network (TVN)

Garden Valley Telephone Company IPTV

Tri-County Telephone Association (IPTV)

Glandorf Telephone Company

United Telephone Mutual Aid Corporation IPTV

Google Fiber

Valu-Net, LLC

Grafton Technologies

Vaughnsville Telephone Company

Greenlight D unnellon Communications

Waldron Telephone Company

Hardy OneNet

Wheat State Telephone (ENFUSION)

Highland Communciations Services

Whidbey Telecom

IdeaTek Systems, Inc.

Wilkes Comm

Integra Telecom, Inc.

Wilkes Telephone

LUS Fiber

Yadkin Valley Telecom IPTV

11. How can I embed an SEC Network video on my website?

a. Locate the video you want on the SECNetwork.com website.
b. Click the 'Tool' icon below the video, then click "Share". Make sure to wait until the ad ends.
c. Grab the embed code, paste it into your content management system or provide it to your website's engineer.